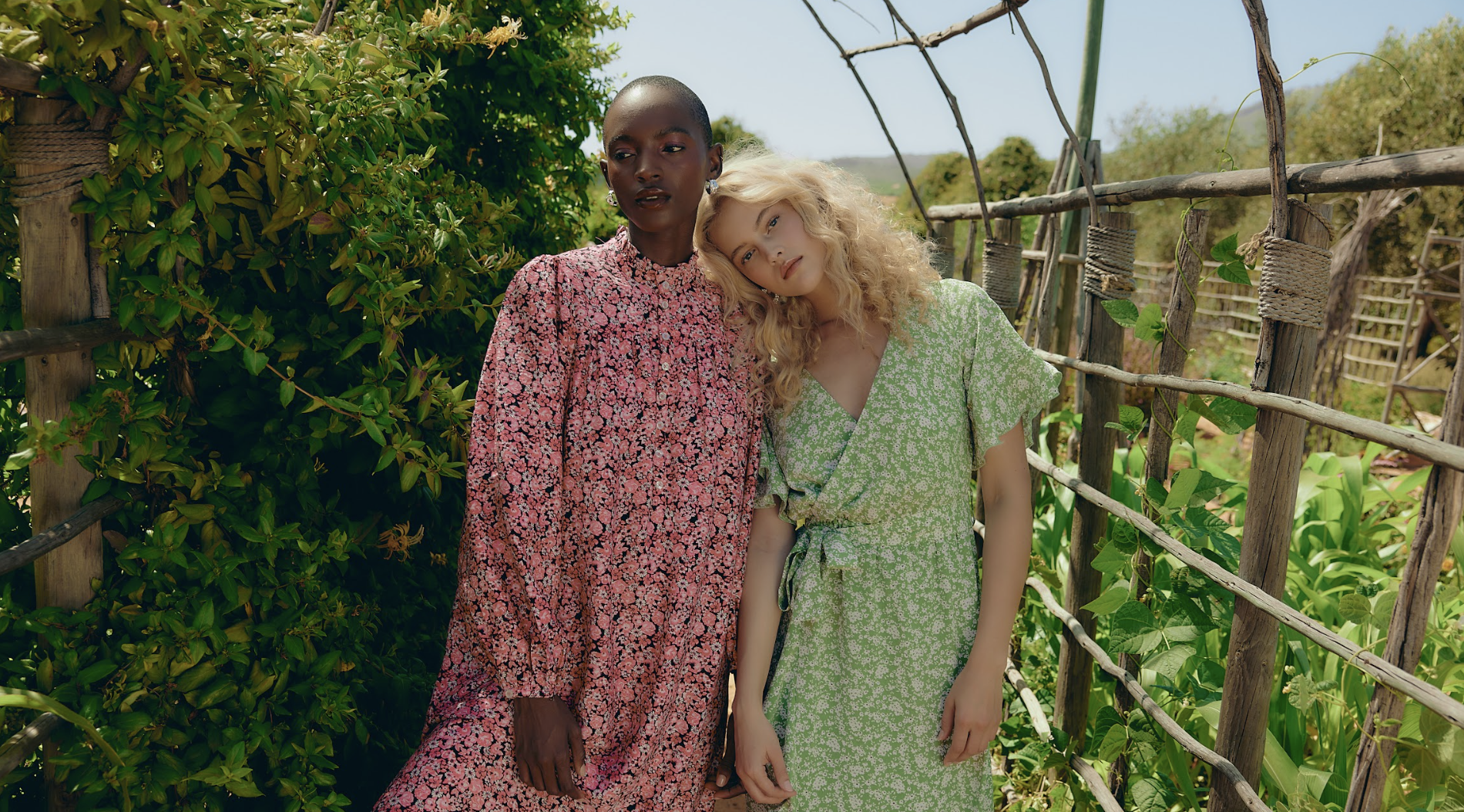 ESG HIGHLIGHTS FY 2022/2023
Planet
We are on track to reach our science-based targets (SBTs) by 2025/2026 and reduced Scope 1 & 2 GHG emissions by 53.7%.
We co-founded FASHION LEAP FOR CLIMATE to achieve our partner engagement target by enabling our third-party brand partners to set SBTs.
We increased our net revenue percentage from more sustainable products to 24.6% by the end of FY 2022/2023.
We expanded our PLANET impact reporting for energy, water, and waste topics.
People
66.6% of our third-party brand partners by net revenue shared sustainability-related data with us.
We increased our supply chain transparency to 100% of our Private Label tier 1 factories and 93.9% of tier 2 factories.
Leadership positions held by women increased to 51.1% and tech positions to 30.3%.
We expanded reporting in our employee section by including how we cooperate with our employees, how we foster diversity, equity, and inclusion, and details of our further training program.
Progress
We detailed our governance structure, including how we cooperate internally in our ESG matrix organization.
We established Corporate Sustainability and Private Labels Sustainability teams.
We set up an internal control system to increase the accuracy of our reporting.
We received new and updated ESG ratings, including Sustainalytics, ISS, and CDP.
Since our beginnings, we have always seen our mission as supporting people to express themselves individually through fashion – of not being afraid to stand up, and being confident, tolerant, and open-minded. We believe in the just idea of doing business with a positive environmental impact and the fair treatment of all people. We therefore aim to operate our business with as many positive consequences as possible for anyone or anything. We take a stand for peace, tolerance, and a healthy planet.

As this financial year was characterized by ongoing macroeconomic challenges acting in line with our convictions has taken on an even greater urgency. We remain determined to reach our targets and intensify our activities in the ESG field. We have indeed reported on new topics while making progress in our business case study for a successful sustainability transition. This should allow other companies to follow suit.

Our ESG efforts in the past year would not have been possible without our internal teams, business partners, consumers, and industry associations. A special word of thanks is due to them for their strong support. The backing we have received for the ESG strategy is enabling the advancement of more sustainable practices in e-commerce fashion.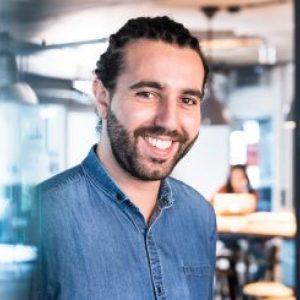 Tarek Müller, Co-Founder and Co-CEO, Marketing and Brand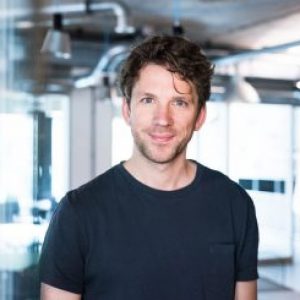 Hannes Wiese, Co-Founder and Co-CEO, Operations and Finance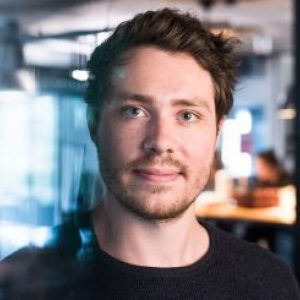 Sebastian Betz, Co-Founder and Co-CEO, Tech and Product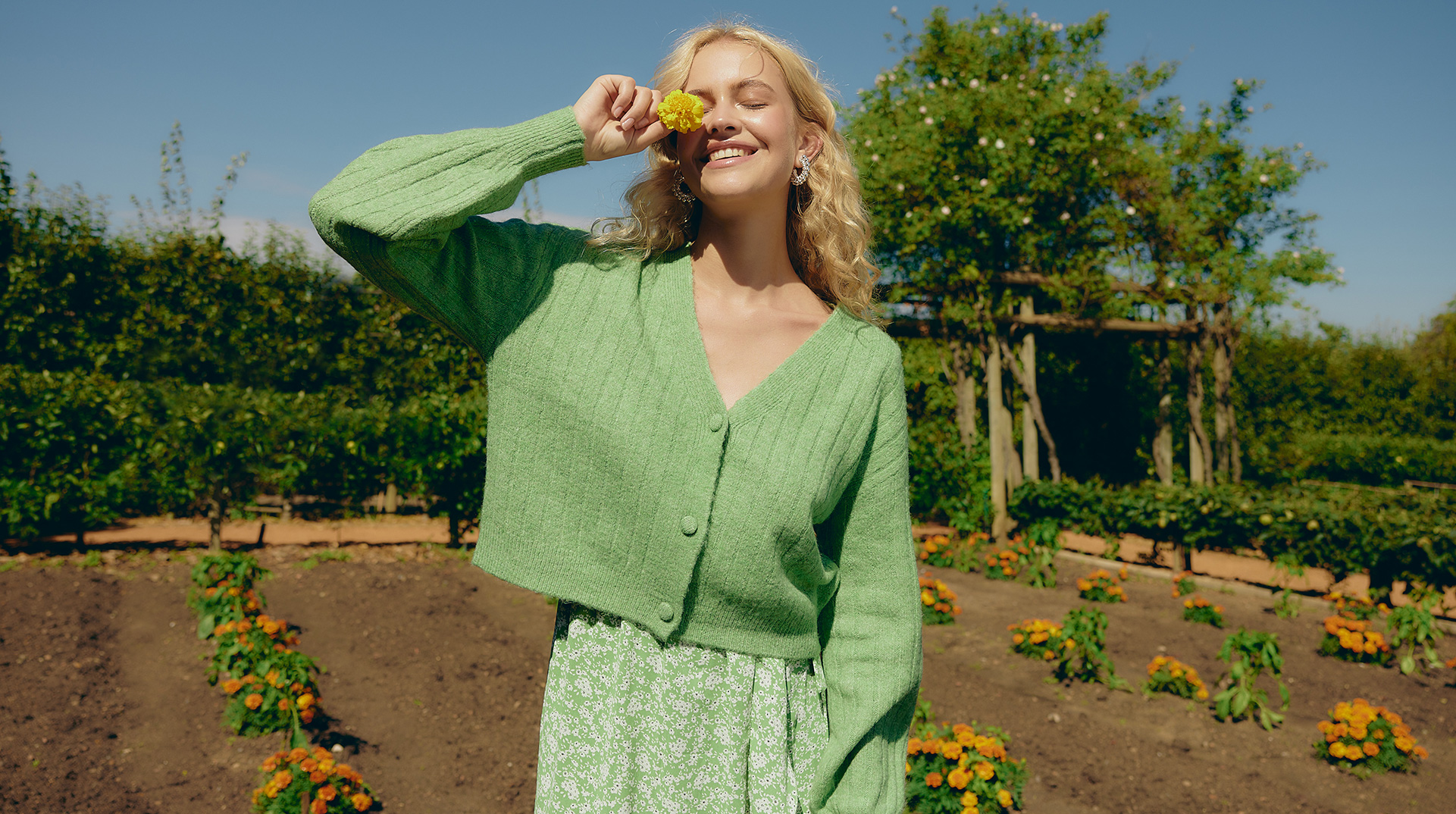 GHG EMISSIONS
ALIGNING REDUCTION TRAJECTORIES WITH THE 1.5° GHG EMISSIONS TARGET
OUR APPROACH
Our science-based targets (SBTs) were set in 2021 and approved by the Science-Based Targets initiative (SBTi) to reduce greenhouse gas (GHG) emissions in line with the 1.5 °C pathway outlined in the Paris Agreement.
OUR PROGRESS IN FY 2022/2023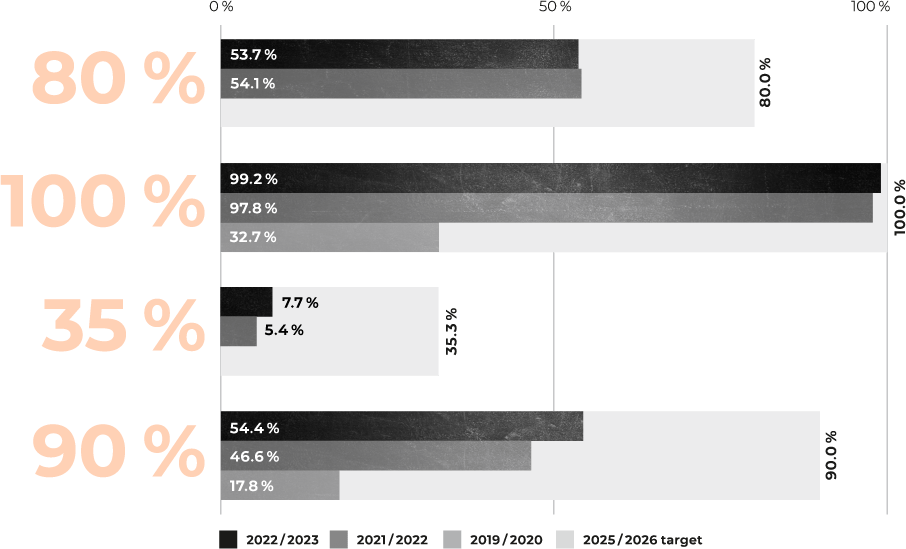 We are committed to reducing absolute Scope 1 and 2 GHG emissions by 80% by 2025/2026 from the base year 2019/2020.
We are committed to increasing the annual sourcing of renewable electricity from 32.7% in 2019/2020 (base year) to 100% by 2025/2026.
We are committed to reducing Scope 3 GHG emissions from Private Label products by 35.3% per unit of value added from 2019/2020 (base year) to 2025/2026.
We pledge that by 2025/2026 90.0% of our business partners will have science-based targets (SBTs) for GHG emissions covering purchased goods and services, transportation, and distribution.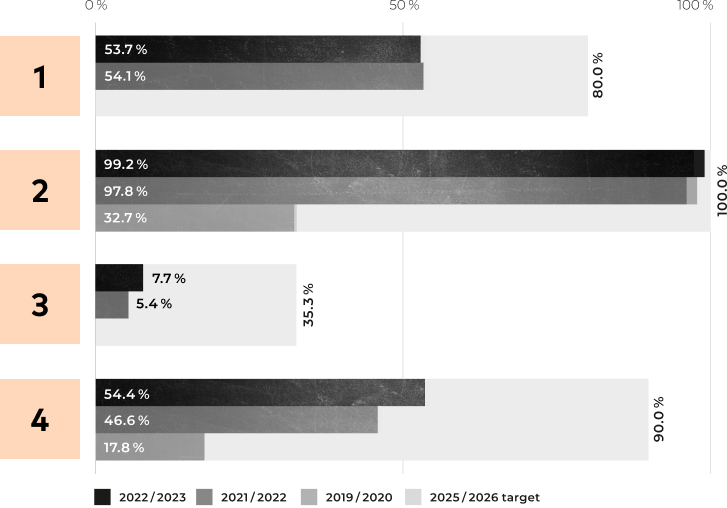 WATER
REDUCING OUR WATER IMPACT
OUR APPROACH
We are working on reducing our water consumption and are engaging with business partners to procure lower water impact products and managing their water impact.
OUR PROGRESS IN FY 2022/2023
We have established criteria for our more sustainable products and are transitioning to more sustainable materials for our Private Labels. This initiative will contribute to reducing the water impact of our products.
For our Private Labels, we rolled out the Higg Factory Environmental Module (Higg FEM) in FY 2022/2023, which also helps us analyze water consumption and eutrophication-related indicators from tier 1 factories.
For our other products, we engaged with brand partners to increase their sustainability performance via the Higg Brand and Retail Module (Higg BRM). We learned if water had been identified as a risk in brand partners' risk assessments and whether they have a water program, impact measurement, and targets in place.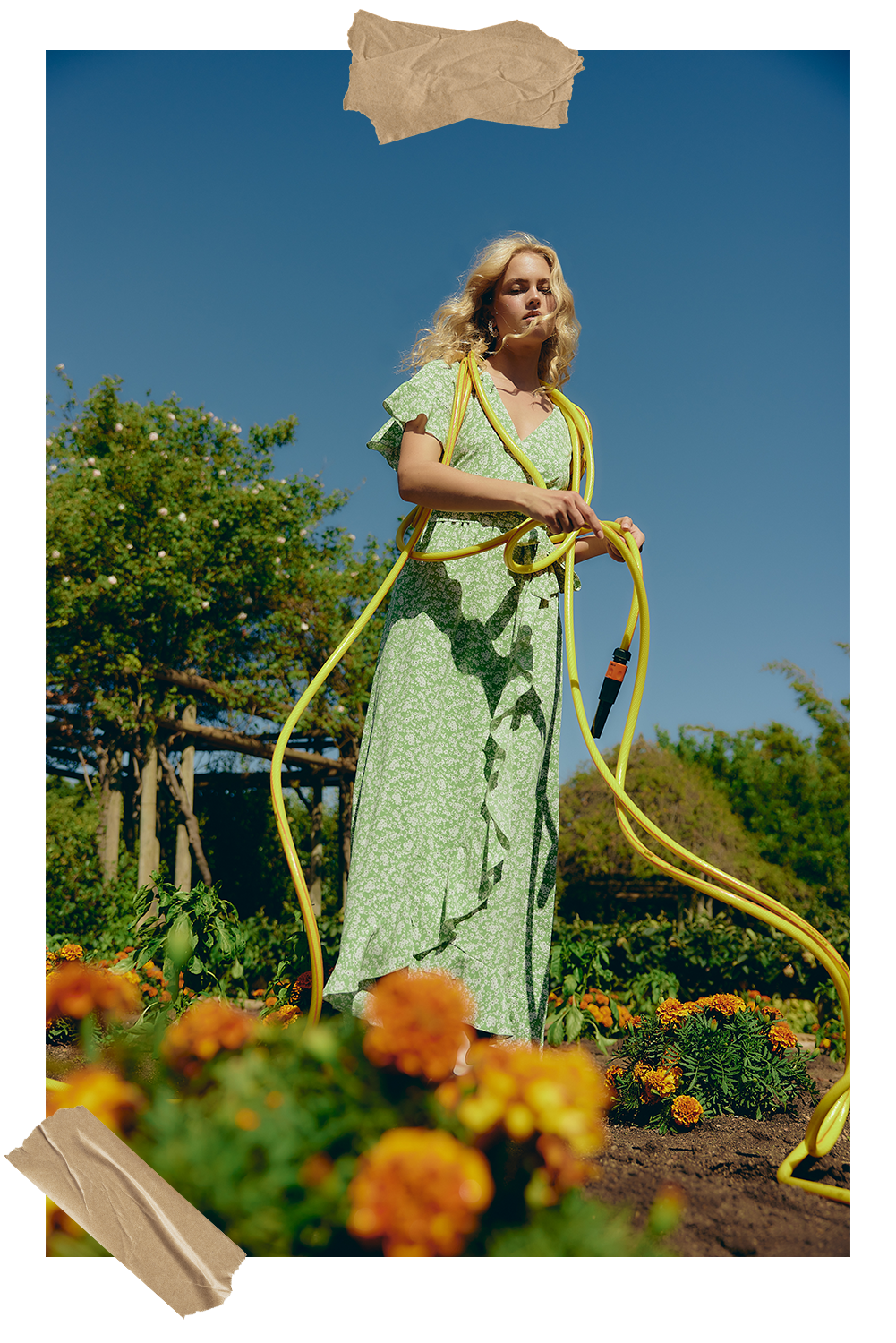 WASTE & PACKAGING
MINIMIZING WASTE
OUR APPROACH
We are increasing our waste consciousness and are working with business partners to use as much post-consumer recycled (PCR) materials for packaging as possible.
OUR PROGRESS IN FY 2022/2023
We try to produce as little waste as possible. We receive returns of varying quality, and most products could be directly restocked in our warehouses. Products that could not be directly restocked were sorted by quality, and depending on the need, appropriate processes are followed to clean and/or repair the products. Anything we could not restock, clean or repair, we sold to specialized partners such as outlets. <0.1% of incoming products, however, had to be incinerated or destroyed because they could not be cleaned or repaired in our operations and could not be sold.
We quantified the type of waste and expanded our reporting for our own operations. All waste is collected by approved local waste service providers. We aim to increase the proportion of waste that is recycled.
In FY 2022/2023 we implemented further measures to improve material efficiency and to increase the percentage of PCR in packaging:

We reduced the amount of material used in our large corrugated cardboard boxes, which has resulted in an additional 17% improvement in our material efficiency.
We increased the recycled content of the transparent packaging film in processing returns from 0% to 80%.
We also reduced paper consumption in our warehouses by e.g., reducing delivery notes to just one page at our Polish warehouse and engaged with drop-shipping partners to improve packaging.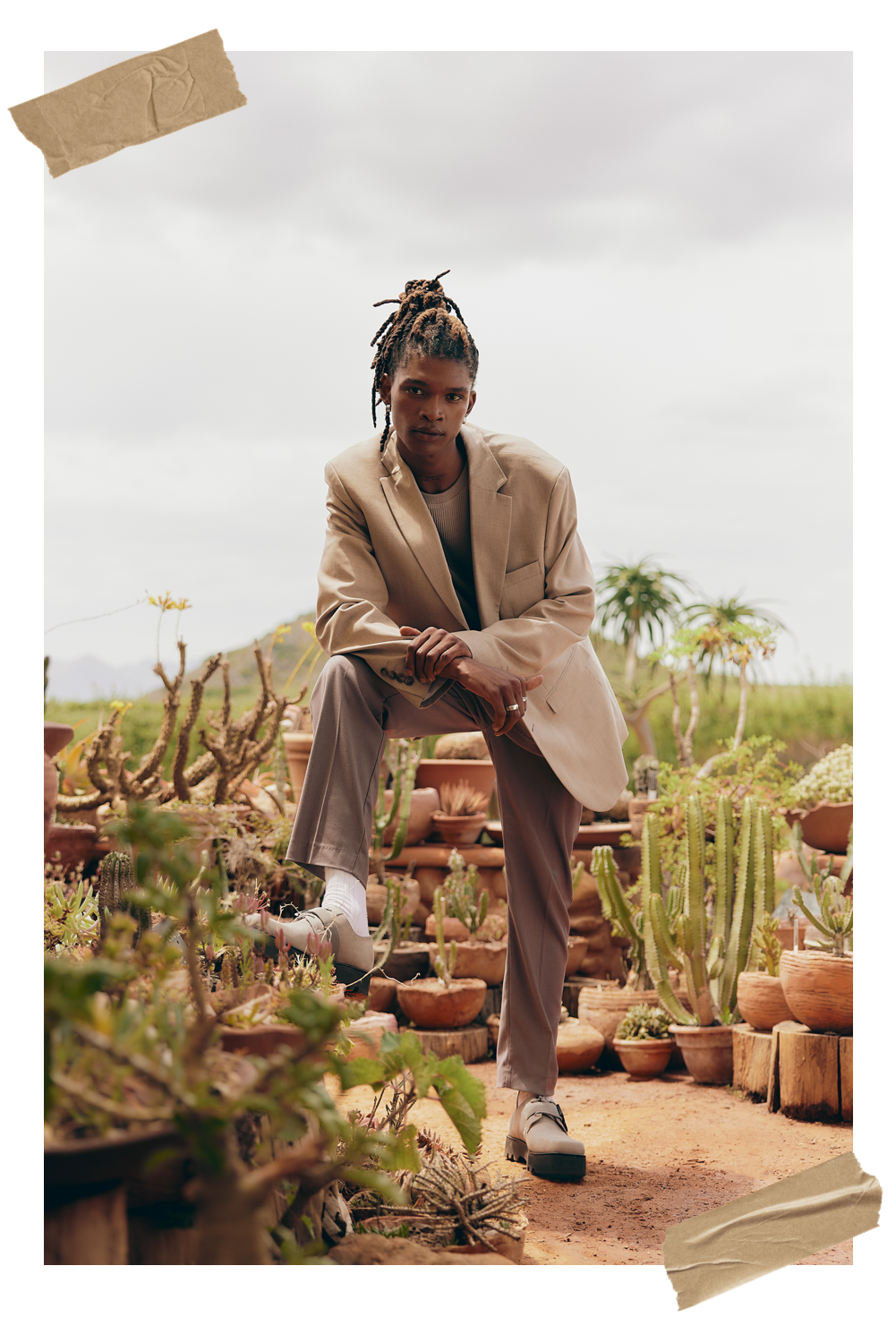 THIRD-PARTY BRAND BUYING
SCALING OUR MORE SUSTAINABLE THIRD-PARTY BRAND ASSORTMENT
OUR APPROACH
As an online fashion store, most of the products we sell are bought from third-party brand partners. We identified scaling the proportion of our more sustainable products as a key component of our approach to reduce our environmental footprint.
OUR PROGRESS IN FY 2022/2023
Percentage of more sustainable products in our core assortment [%]

In FY 2022/2023, we updated the sustainability-related features of our online fashion store and made our criteria of what constitutes a more sustainable product more strict.
PRIVATE LABELS
PROGRESSING TOWARD MORE SUSTAINABLE SOURCING
OUR APPROACH:
Our Private Labels are EDITED, ABOUT YOU the label, and several celebrity coops. We aim to replace raw materials with more sustainable alternatives where possible for our Private Label products by 2025 and are engaging with suppliers to reduce environmental impact.
OUR PROGRESS IN FY 2022/2023
Percentage of ordered Private Labels apparel that met our more sustainable criteria [%]
In FY 2022/2023, we measured and analyzed the environmental performance of our tier 1 factories using Higg FEM. The tool includes data points on a factories' environmental management system, energy consumption, GHG emissions, air emissions, as well as water, wastewater, waste and chemicals impact. Out of 112 active tier 1 factories in CY 2021, 55.4% (66) shared their Higg FEM 2021 responses with us and we assessed their environmental performance.

ABOUT YOU joined the Leather Working Group (LWG) in 2020 to support more responsible leather manufacturing.
www.leatherworkinggroup.com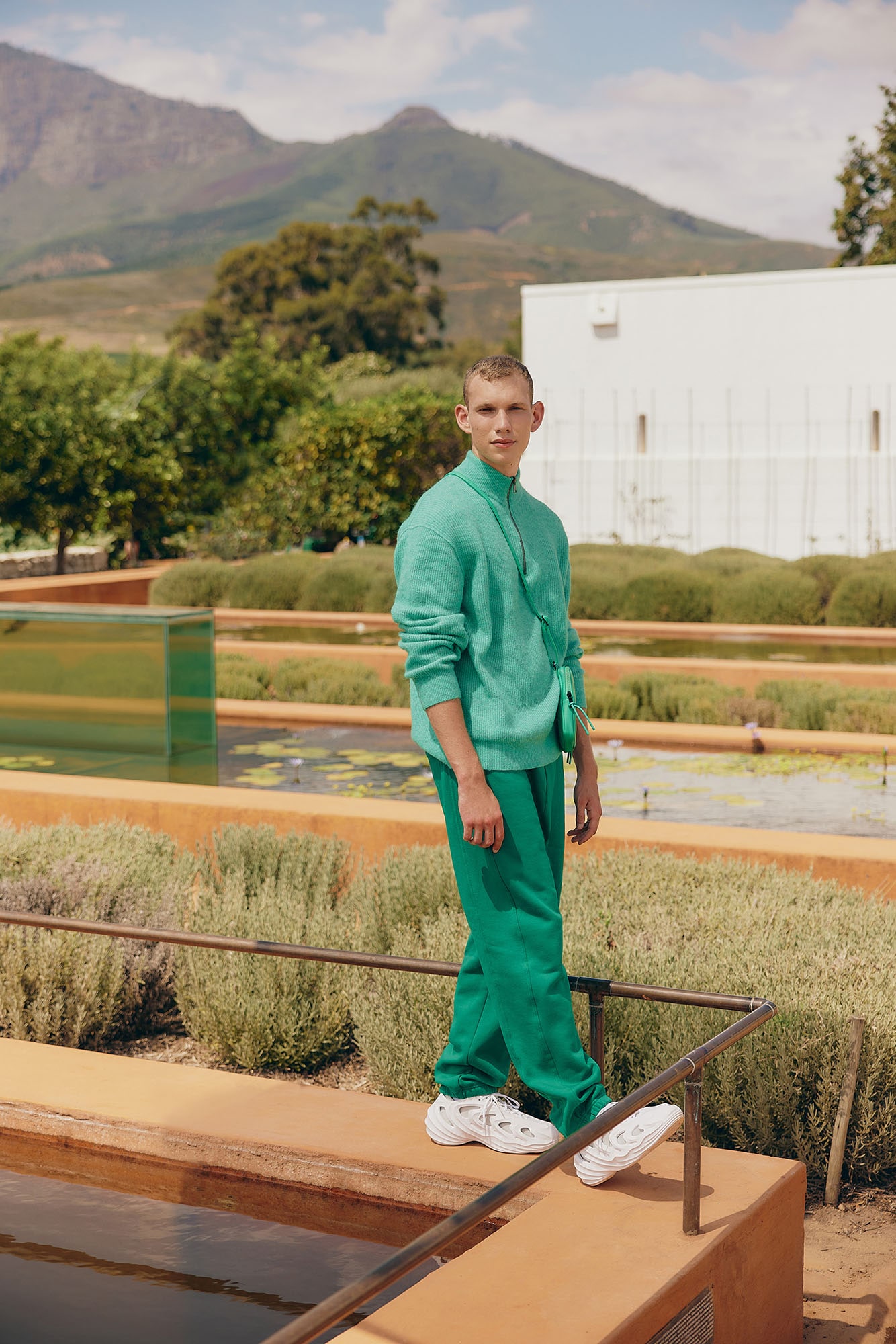 CIRCULARITY
TRANSFORMING THE LINEAR FASHION SYSTEM
OUR APPROACH
We aim to extend the life of fashion products by deviating from the linear model and implementing circular measures. The core idea of a circular business model is to generate revenue without increasing the environmental impact by reusing products or components in a cycle.
OUR PROGRESS IN FY 2022/2023
In FY 2022/2023, we continued to grow our Second Love assortment, offering an average of 368,322 quality-checked items, compared to 350,616 in the previous year. Our target is to increase our Second Love assortment to 1 million items by FY 2025/2026.
We launched the ABOUT YOU Resale Model for a three-month pilot phase to facilitate consumers' participation in the circular economy by reselling their unused apparel and footwear, aiming to eliminate barriers to returning unused products to the fashion cycle.
Our Vintage Wardrobe was a hit at the 2022 ABOUT YOU Pangea Festival, with 4,000 items rented. We expanded to four more festivals, renting 5,200 items. ABOUT YOU stylists assisted festival-goers in renting unique vintage clothing. This highlighted the growing interest in circular fashion.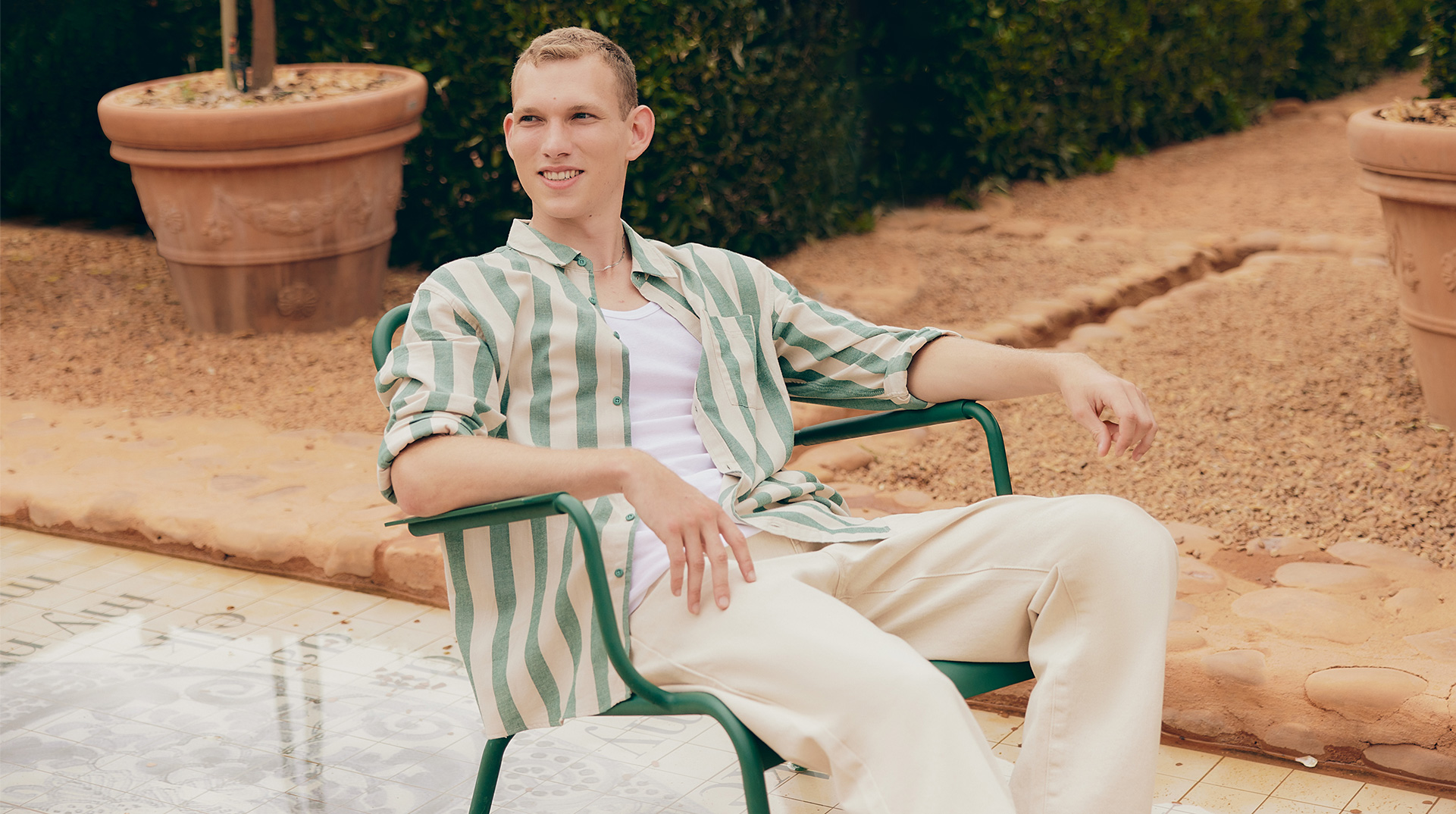 CORPORATE
OUR ESG DUE DILIGENCE FRAMEWORK
OUR APPROACH
To fulfil our responsibility for the people working at ABOUT YOU and along our supply chain, we created an ESG due diligence framework. Our goal is to understand, effectively manage and mitigate our social risks while taking advantage of opportunities.
OUR PROGRESS IN FY 2022/2023
We operate our ESG due diligence framework in five stages:
Using our ESG risk assessment we continuously evaluate social risks and gradually improve our assessment as a basis for prioritization.
Deriving dedicated KPIs and measures across our organization and monitoring their effectiveness.
Setting up policies to formulate what we expect of stakeholders.
Ensuring the accessibility of whistleblowing channels.
Sharing our progress and what we have learned by adapting internal processes and our governance structures to ensure regular updates are provided in our annual ESG Report.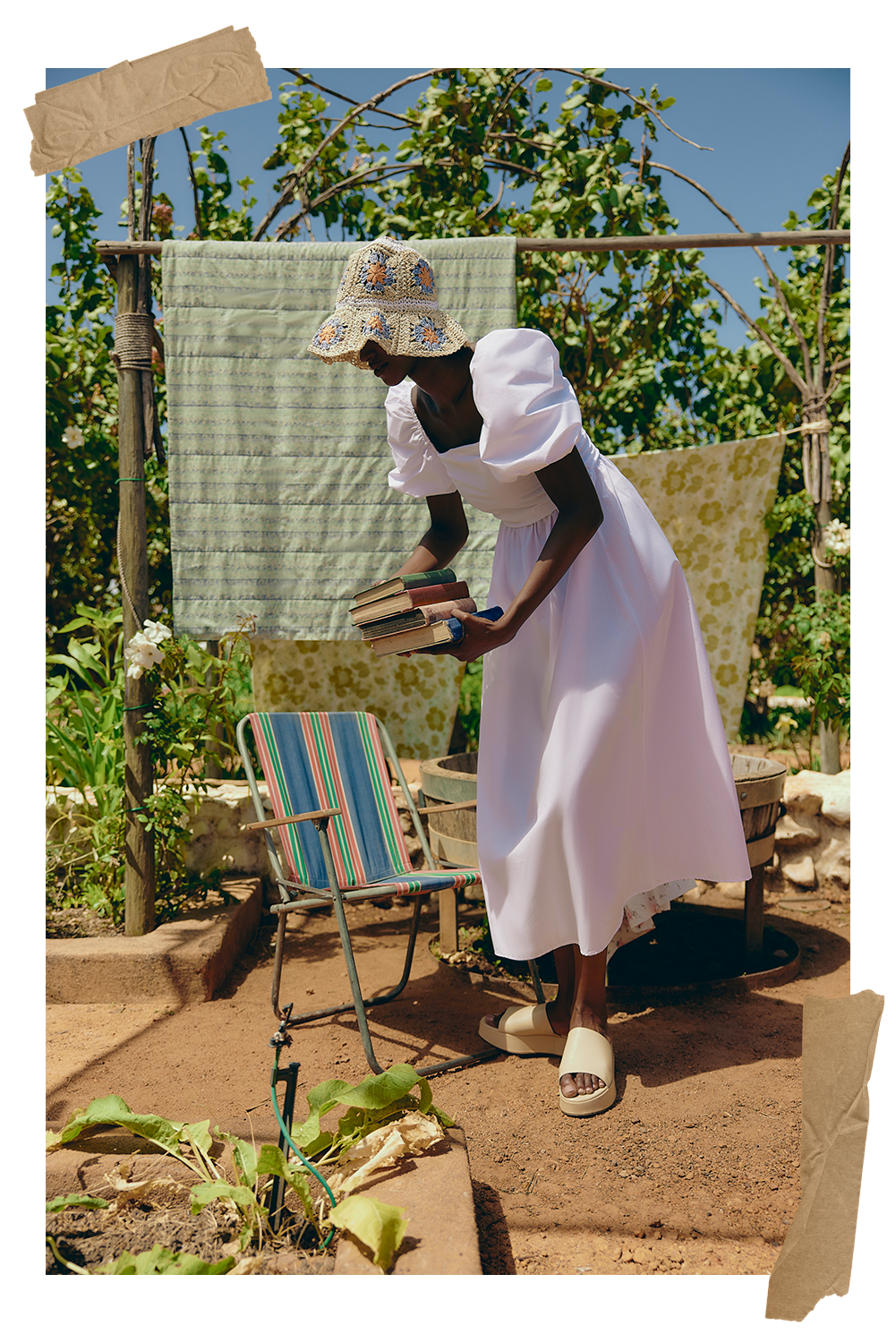 THIRD-PARTY BRAND BUYING
ENGAGING WITH THIRD-PARTY BRAND PARTNERS TO MANAGE SOCIAL RISKS
OUR APPROACH
As an online fashion store, we aim to increase transparency and and reduce our sourcing risk at a structural level through appropriate policies, to engage with our brand partners to manage social risks, and to work toward a uniform approach for the textile industry. Therefore, we collaborate with brand partners through a sustainability performance questionnaire for brands and retailers (Higg BRM).
OUR PROGRESS IN FY 2022/2023
Higg BRM engagement with third-party brand partners [%]
| | 2022/2023 | 2021/2022 |
| --- | --- | --- |
| Higg BRM data shared with us by previous year's net revenue share | 66.6% | 50.9% |
| Verified Higg BRM data shared with us by previous year's net revenue share | 38.5% | 33.7% |
A year-on-year comparison based on available data showed a clear improvement in our partners' social scores. Brand partners especially focused on implementing the next steps in assessing, identifying, and reducing risk areas across their operations.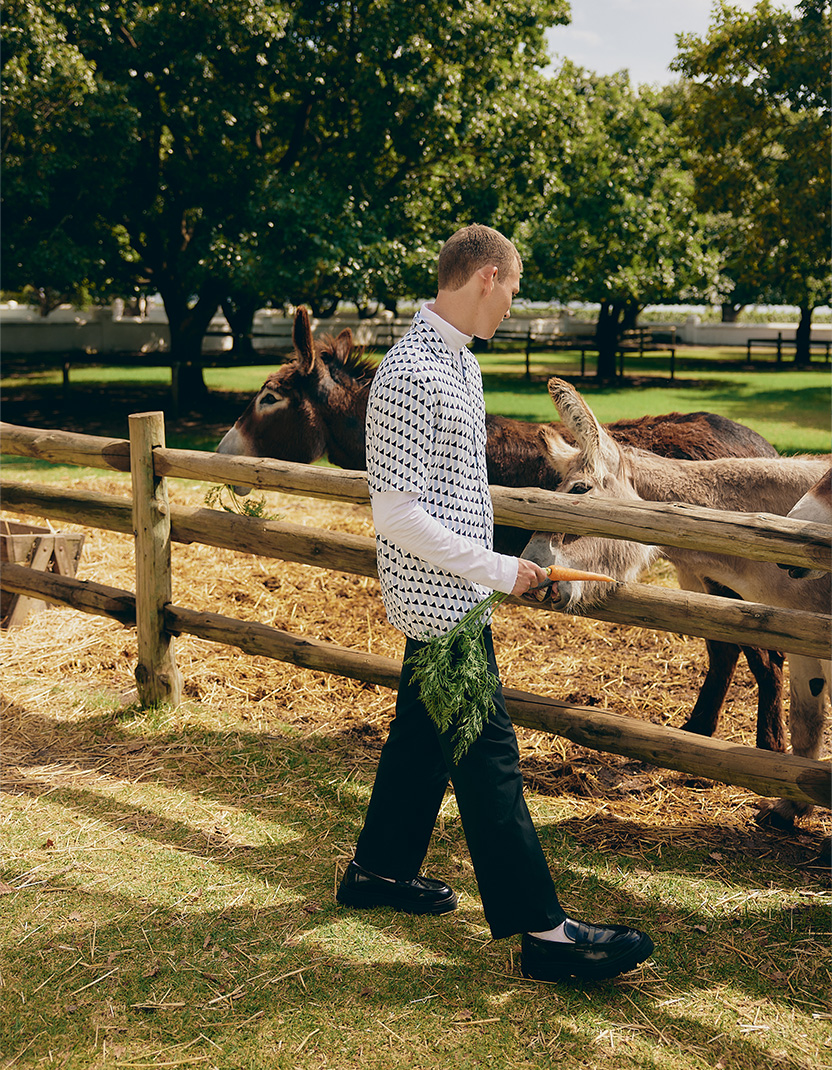 PRIVATE LABELS
INCREASING SUPPLY CHAIN TRANSPARENCY AND SOCIAL COMPLIANCE
OUR APPROACH
To manage and mitigate social risks, we implemented measures within the scope of our ESG due diligence framework and developed a five-step approach when working with Private Label suppliers:
Increasing supply chain transparency as an enabler for improving social performance
Establishing policies and contractual assurances as the basis for business partnerships based on social performance, sustainability, and quality requirements
Monitoring social performance through assessments and whistleblowing channels
Engaging with suppliers and establishing escalation processes to manage high social risks in the supply chain
Sharing progress made and what we have learned in our ESG Report
We require third-party social assessments for our tier 1 factories, based on international human rights standards such as the Universal Declaration of Human Rights and ILO conventions. New factories must have a valid amfori BSCI audit or equivalent assessment prior to onboarding, and all current tier 1 factories must pass an amfori BSCI audit by January 2025.
OUR PROGRESS IN FY 2022/2023
Once again this year, our Tier 1 transparency was 100%
Our Tier 2 transparency was 93.9%, up from 64.1% in the last reporting period.


We added new social and environmental criteria to our supplier scorecards, including social performance rating, associated social risks, and engagement in training and improvement, with a greater weight on social criteria.
OUR EMPLOYEES
CREATING A FAIR AND FRIENDLY WORK ENVIRONMENT FOR ALL
OUR APPROACH
In creating a fair and friendly work environment for all our employees we understand where we stand and improvement opportunities by measuring and analyzing our performance – identifying opportunities for improvement.
OUR PROGRESS IN FY 2022/2023
Our employees
| | 2022/2023 | 2021/2022 |
| --- | --- | --- |
| Employees | | |
| Number of employees | 1,521 | 1,497 |
| New hires | 692 | 850+ |
| Age representation | | |
| More sustainable products as a proportion of net revenue | 29.7 years | 28.7 years |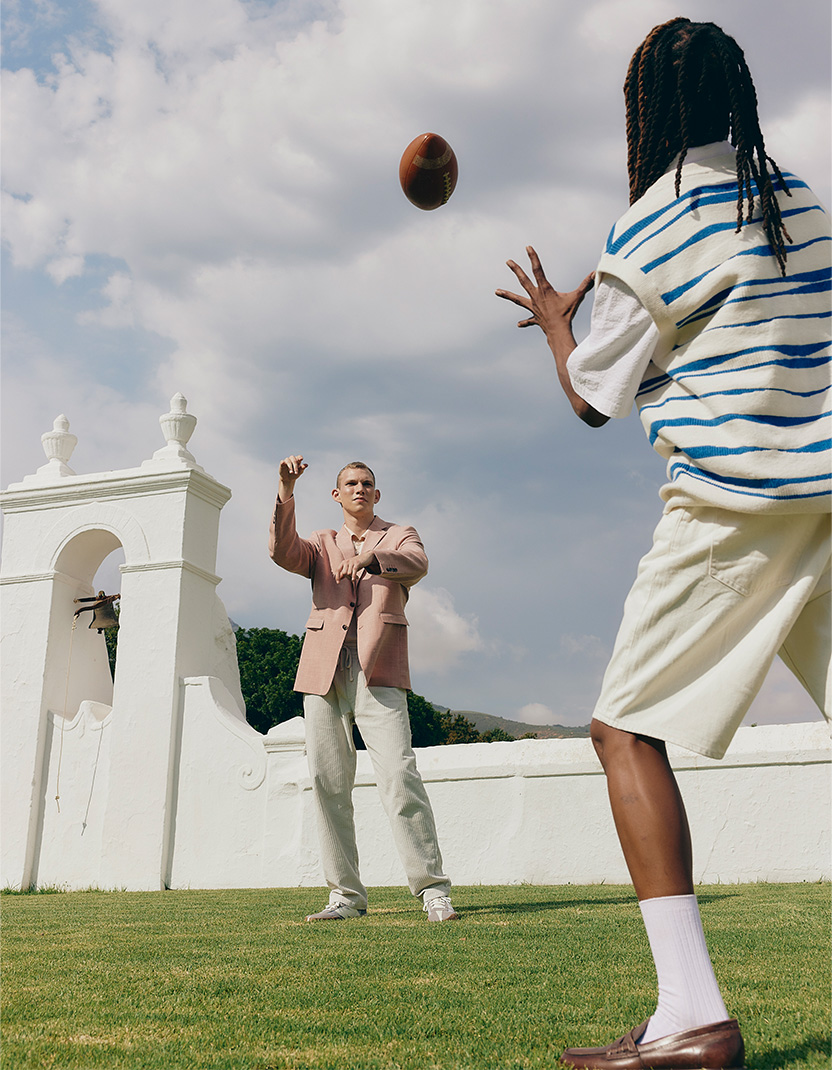 OUR EMPLOYEES
DIVERSITY, EQUITY, AND INCLUSION (DE&I)
OUR APPROACH
We make an effort to create an inclusive and exceptional environment to attract and develop talent from all over the world. We believe that diversity among employees essentially contributes to the ABOUT YOU culture. For us, diversity means ensuring our teams and workplaces reflect the vibrant diversity of our consumers and communities in terms of ethnicity, skin color, gender identity, sexual orientation, talent, age, education, background, and other factors.
OUR PROGRESS IN FY 2022/2023
| | 2022/2023 | 2021/2022 |
| --- | --- | --- |
| Gender representation | | |
| Women | 65.7% | 67.1% |
| Men | 34.2% | 32.9% |
| Non-binary | 0.1% | <0.1% |
| Women employees | | |
| Women in leadership positions | 51.1% | 49.3% |
| Women in first-level management positions | 37.7% | 38.7% |
| Women in tech roles | 30.3% | 28.2% |
| International employees | | |
| International representation | 29.6% | 28.5% |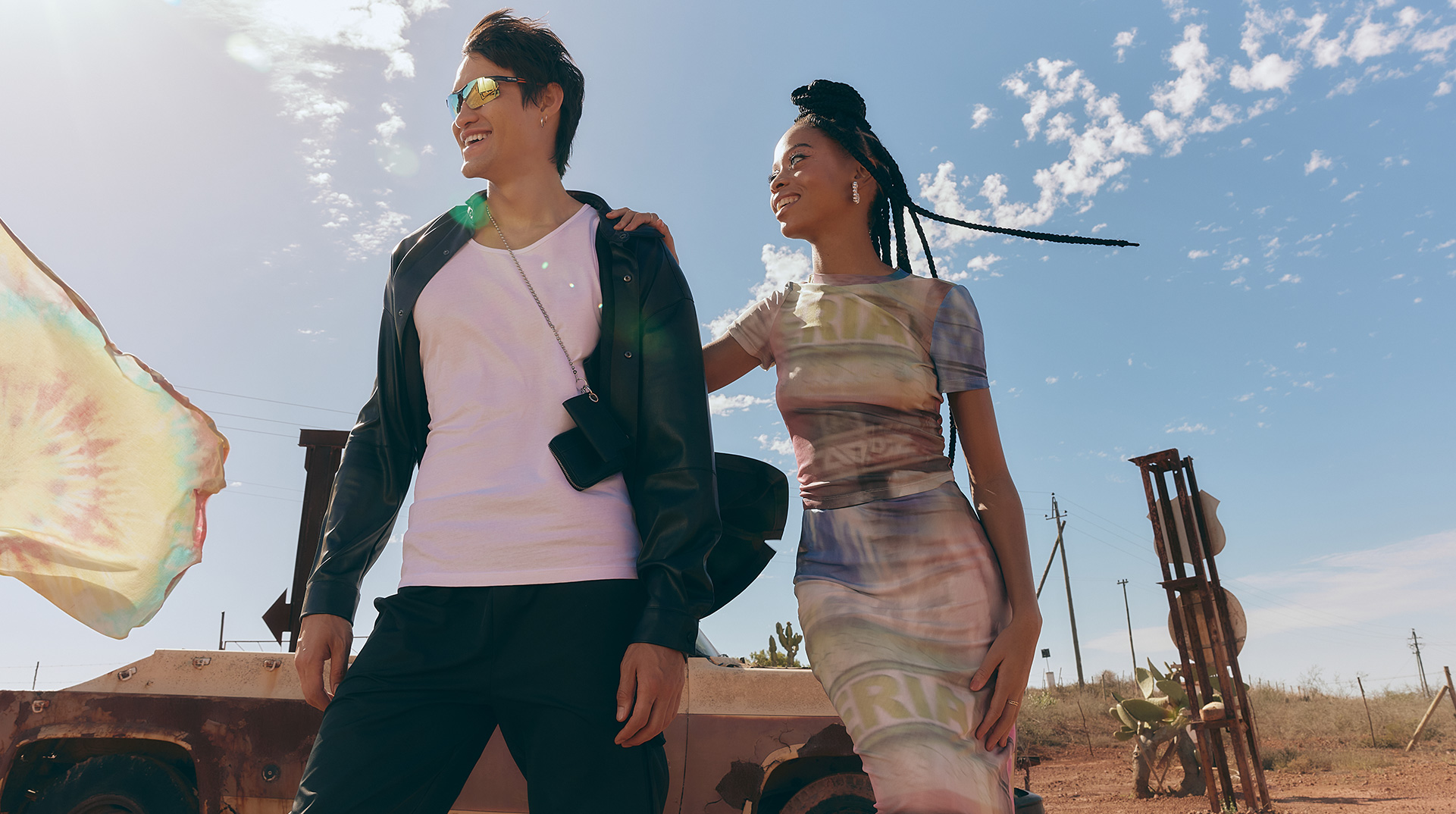 ESG STRATEGY
ENHANCING POSITIVE IMPACT
Our approach
To advance our journey to become a more sustainable fashion platform of scale, we are working toward two goals:
Transitioning core areas of our business
Exponentially increasing our positive impact
Our ESG strategy aims to achieve these twin goals through a defined set of measures and KPIs.
OUR PROGRESS IN FY 2022/2023
Our ESG strategy is broken down into five steps:
Learning what our material topics are by capturing our stakeholders' perspectives in our materiality assessment and increasing our understanding of the ESG topics we should be working on as a player in the fashion and e-commerce ecosystems
Establishing KPIs and deriving measures by identifying, adapting, and prioritizing opportunities
Utilizing the KPIs and measures to monitor and initiate progress with our business units and partners
Calibrating our ESG governance structure and resources
Sharing progress and what we have learned in our ESG Report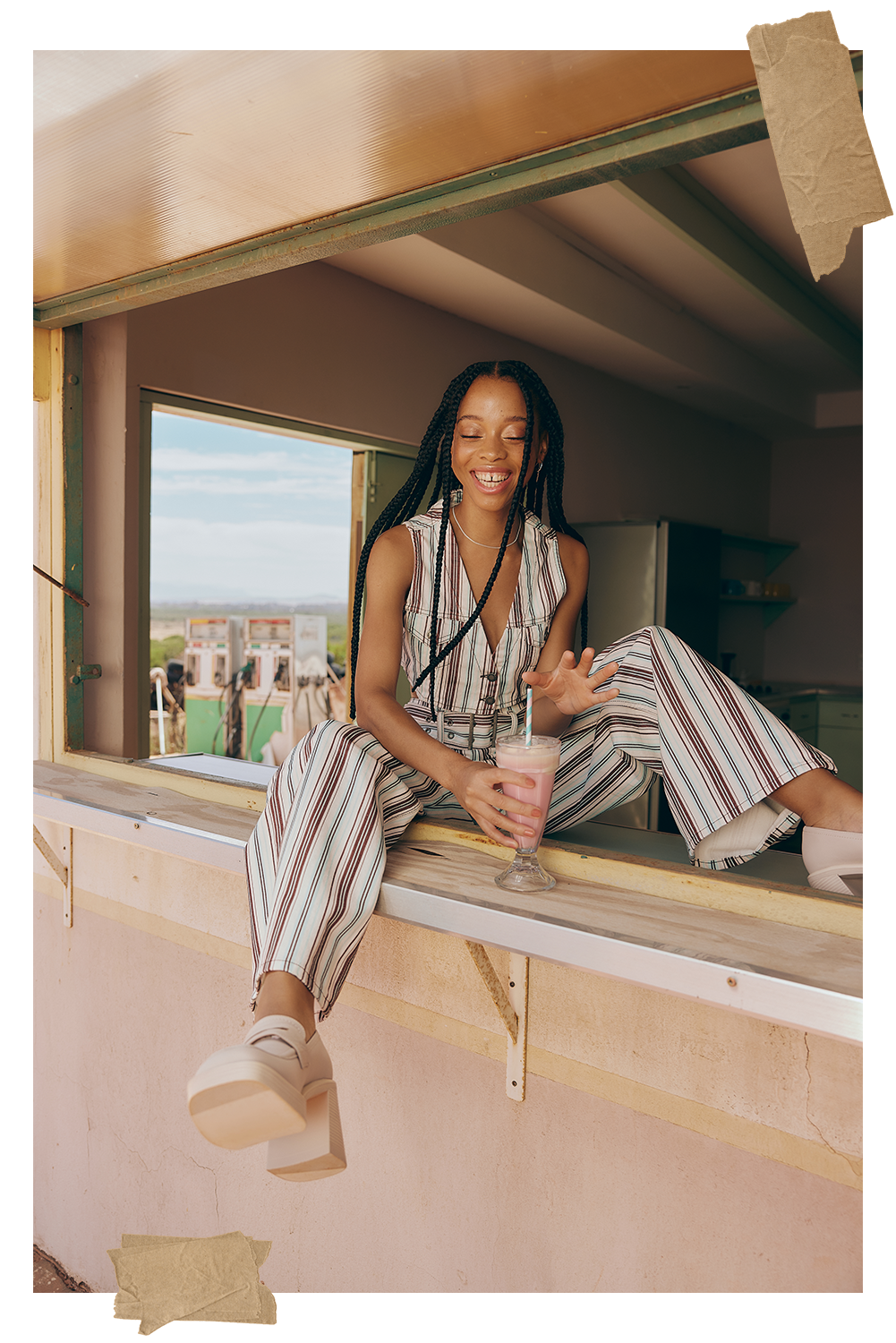 GOVERNANCE
ESTABLISHING EFFECTIVE STRUCTURES
Our approach
The question of how we manage the transition toward more sustainable practices within our organization is key to achieving our ESG objectives. We integrate sustainability capacities into our core operations and the respective process-owning business units.
OUR PROGRESS IN FY 2022/2023
In FY 2022/2023, we established a Corporate Sustainability team and a Private Label Sustainability team and increased our capacities across further ESG-related functions. Our sustainability leads, business unit leads, and the Co-CEO Operations and Finance meet regularly to discuss KPIs, assess new opportunities, take management decisions, and clarify roles and responsibilities.
GOVERNANCE
SETTING STARTING POINTS AND MEASURING PROGRESS
OUR APPROACH
We use various cross-sectoral ESG frameworks to provide helpful guidance, benchmarking, and calibration for our sustainability strategy. We remain committed to improving our ESG performance and having measurable positive impacts.
OUR PROGRESS IN FY 2022/2023
The Institutional Shareholder Services group (ISS) provided us with a C rating, which is close to the prime threshold. Our rating ranks in decile 1 (top 10%) of the retail industry. We aim to improve and reach the prime threshold
Morningstar's Sustainalytics provided us with an ESG risk rating score of 16.2. Our ESG risk rating ranks 3/96 in the Sustainalytics Online and Direct Marketing Retail sub-industry.
We earned Leadership level (A-) in the Carbon Disclosure Project (CDP) Climate Change questionnaire. Based on our disclosure, we are among the top 8% assessed for supplier engagement on climate change and were therefore added to the 2022 CDP Supplier Engagement Leaderboard.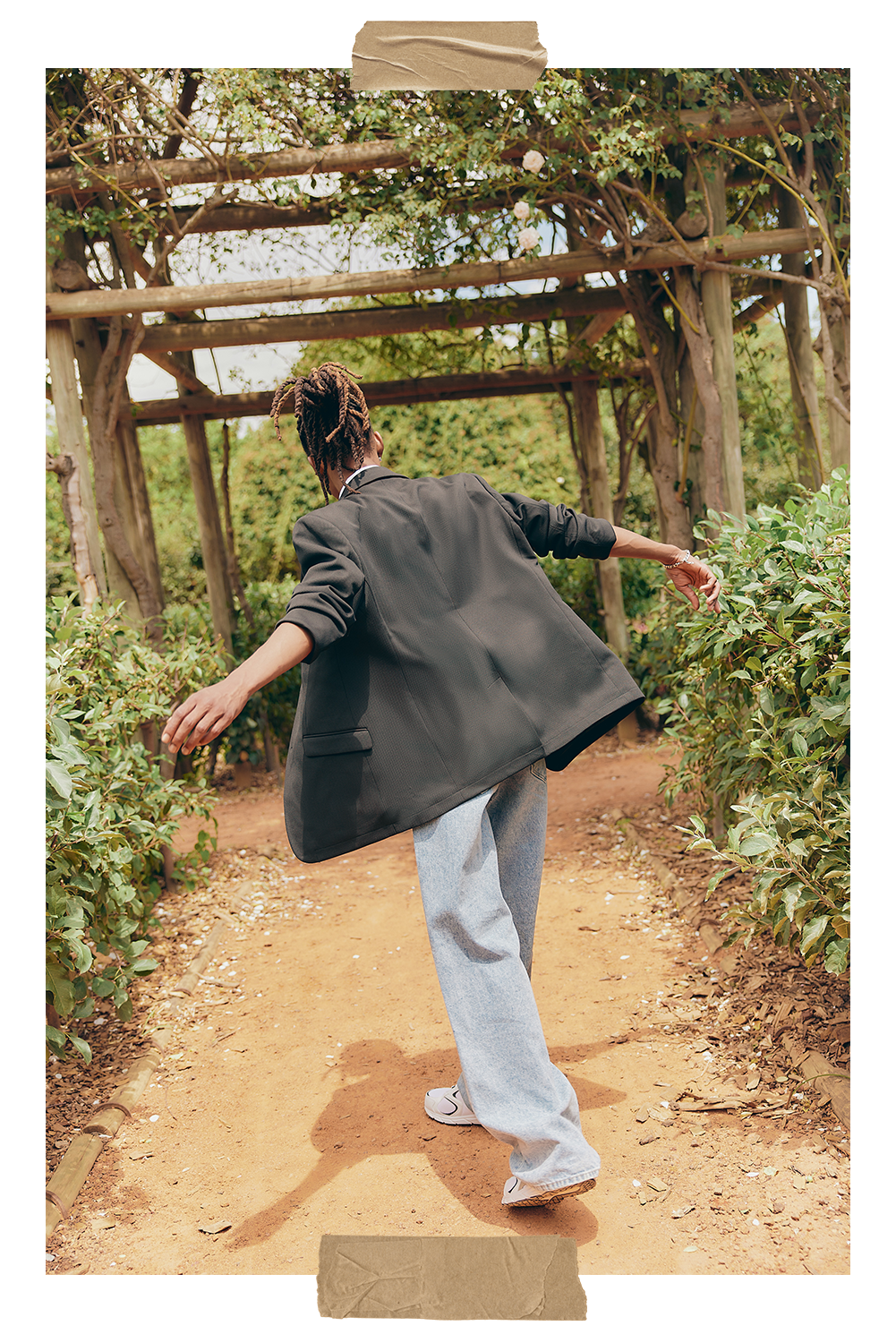 PARTNERSHIP
BUILDING WORTHWHILE PARTNERSHIPS
Our approach
We operate our online fashion store with the support of various partners, including third-party brands, Private Label suppliers, logistics, customer service, marketing, and digital content creation partners. We appreciate and are encouraged by our partners' progress and support, as they are essential to achieving our goals.
OUR PROGRESS IN FY 2022/2023
Two partnerships were of particular importance in the year under review:
We collaborated with brands and retailers in the Sustainable Apparel Coalition in a member experts' team advancing Higg BRM assessment for brands and retailers;
Together with Yoox Net-A-Porter and Zalando, we founded FASHION LEAP FOR CLIMATE, a fashion industry-led initiative driving climate education and partner engagement and taking action to reduce GHG emissions in supply chains and across the fashion industry.
We believe that involving our direct business partners can multiply our positive impact beyond our direct operations. We are open to and actively looking into further partnerships and collaboration opportunities.