ABOUT YOU Achieves Profitability Already in Q1 2023/2024
Significant improvements in adjusted EBITDA [1]

to EUR 4.2 million (Q1 2022/2023: EUR -28.8 million) and positive free cash flow of EUR 10.8 million (Q1 2022/2023: EUR -24.4 million) in Q1 2023/2024 

Strategic and operational measures substantially increase profitability in all segments

Commerce business increases profitability in DACH to adjusted EBITDA margin of 5.2% (Q1 2022/2023: 4.1%), significant improvement in Rest of Europe (RoE) to -5.3% (Q1 2022/2023: -20.1%)

B2B segment Tech, Media, and Enabling (TME) improves adjusted EBITDA margin to 18.2% (Q1 2022/2023: 14.0%)

Revenue growth of 0.6% YoY to EUR 507.1 million despite volatile macroeconomic environment and strong comparison base from Q1 2022/2023

Number of active customers (LTM [2]

) continues to rise to 12.8 million (+8.6% YoY) with an average order frequency of 3.1 (+4.6% YoY)

Guidance for FY 2023/2024 confirmed: Group revenue growth between +1% and +11% YoY and expected to reach adjusted EBITDA break-even 
ABOUT YOU Holding SE, one of Europe's fastest growing online fashion stores of scale, today announces a positive adjusted EBITDA in Q1 2023/2024, reaching break-even earlier than expected. Defying continued volatile market conditions, ABOUT YOU made significant progress on improving profitability and driving efficiency while increasing revenue, customers, and orders. For FY 2023/2024, ABOUT YOU confirmed its full-year guidance.
"In Q1 2023/2024, we managed to reach break-even ahead of plan in what continues to be a challenging market environment," states Tarek Müller, Co-Founder and Co-CEO of ABOUT YOU. "Early strategic and operational measures allowed us to further optimize our inventory, logistics, marketing planning, and hiring. We are now seeing the benefits of these measures as they are starting to take effect and deliver tangible results. Along with the achieved revenue growth, we have laid the foundation for long-term profitable growth of our Group in the last quarter."
Driven by disciplined cost reductions in marketing and administration, the Group achieved an adjusted EBITDA of EUR 4.2 million (Q1 2022/2023: EUR -28.8 million) with a margin of 0.8% (Q1 2022/2023: -5.7%) in Q1. The increase in free cash flow to EUR 10.8 million (Q1 2022/2023: EUR -24.4 million) was largely attributable to the improvement in EBITDA.
A 51.1% decline in marketing costs to EUR 51.3 million (Q1 2022/2023: EUR 104.9 million) was realized following a significant reduction in market entry campaigns. The cost-to-revenue ratio was also considerably reduced and now stands at 10.1% compared to 20.8% in Q1 2022/2023. In Q1, ABOUT YOU focused on performance marketing, influencer campaigns, and content creation for the ABOUT YOU app and website. Increased operational efficiencies and a slowdown in hiring, particularly in non-tech functions, saw administrative expenses fall 15.1% to EUR 24.2 million (Q1 2022/2023: EUR 28.5 million) and to 4.8% (Q1 2022/2023: 5.7%) relative to revenue. At the same time, the Group recorded a 9.3% increase in fulfillment costs to EUR 120.5 million (Q1 2022/2023: EUR 110.2 million) with a cost-to-revenue ratio of 23.8% (Q1 2022/2023: 21.9%) and a decline in gross margin to 39.5% (Q1 2022/2023: 42.6%). The decline in gross margin weighed on profitability and was mainly due to discount levels remaining elevated in the fashion industry.
The Group improved profitability in all three reporting segments in Q1. In the Commerce business, the adjusted EBITDA margin in the DACH segment increased to 5.2% (Q1 2022/2023: 4.1%) with an adjusted EBITDA of EUR 13.0 million (Q1 2022/2023: EUR 9.9 million). Revenue in DACH was up 4.1% year-on-year to EUR 248.8 million (Q1 2022/2023: EUR 239.0 million), with double-digit growth in Austria and Switzerland overall. The German market grew in the single-digit percentage range. The Rest of Europe (RoE) segment improved adjusted EBITDA to EUR -12.1 million (Q1 2022/2023: EUR -46.0 million) with a significant increase in the adjusted EBITDA margin to -5.3% (Q1 2022/2023: -20.1%). At EUR 228.8 million (Q1 2022/2023: EUR 229.5 million), revenue almost reached the level of the same period last year, with diverging growth rates witnessed in the different European markets. These stemmed from country-specific factors such as inflation, the influence of cost-cutting measures, prior-year effects, and the respective markets' maturity.
The B2B segment Tech, Media, and Enabling (TME) increased its adjusted EBITDA margin to 18.2% (Q1 2022/2023: 14.0%) and adjusted EBITDA to EUR 8.8 million (Q1 2022/2023: EUR 7.0 million), supported by new enterprise customer wins through SCAYLE. Revenue was down 3.5% year-on-year to EUR 48.3 million (Q1 2022/2023: EUR 50.0 million) in Q1, despite strong demand in Tech. This was mainly caused by a reduction of marketing campaign budgets by brand partners in the Media segment as well as operational projects in the Enabling segment being suspended by several enterprise customers.
Group revenue grew by 0.6% year-on-year to EUR 507.1 million (Q1 2022/2023: EUR 504.1 million), despite the strong comparison base, as well as inventories in the fashion industry remaining at an elevated level, and subdued consumer sentiment due to cold weather in Europe. 
However, the consumer sentiment in the eurozone recovered slightly during Q1, which benefited ABOUT YOU's customer and order metrics: 39.6 million orders were placed by 12.8 million active customers in the last twelve months (to May 31, 2023) (Q1 2022/2023 LTM: 34.9 million and 11.8 million respectively), corresponding to an average order frequency of 3.1 (Q1 2022/2023 LTM: 3.0). Despite the increased demand, the average order value declined slightly by 3.5% to EUR 54.8 (Q1 2022/2023 LTM: EUR 56.8), partly as a result of continued elevated discount levels.
Considering the significant improvement in profitability in Q1, the Group confirms its guidance to reach adjusted EBITDA break-even in FY 2023/2024. Furthermore, ABOUT YOU continues to expect Group revenue growth in the range of +1% and +11% year-on-year.
The Quarterly Statement for Q1 2023/2024 is available on the Investor Relations website. ABOUT YOU will publish its Interim Financial Report for H1 2023/2024 on October 10, 2023.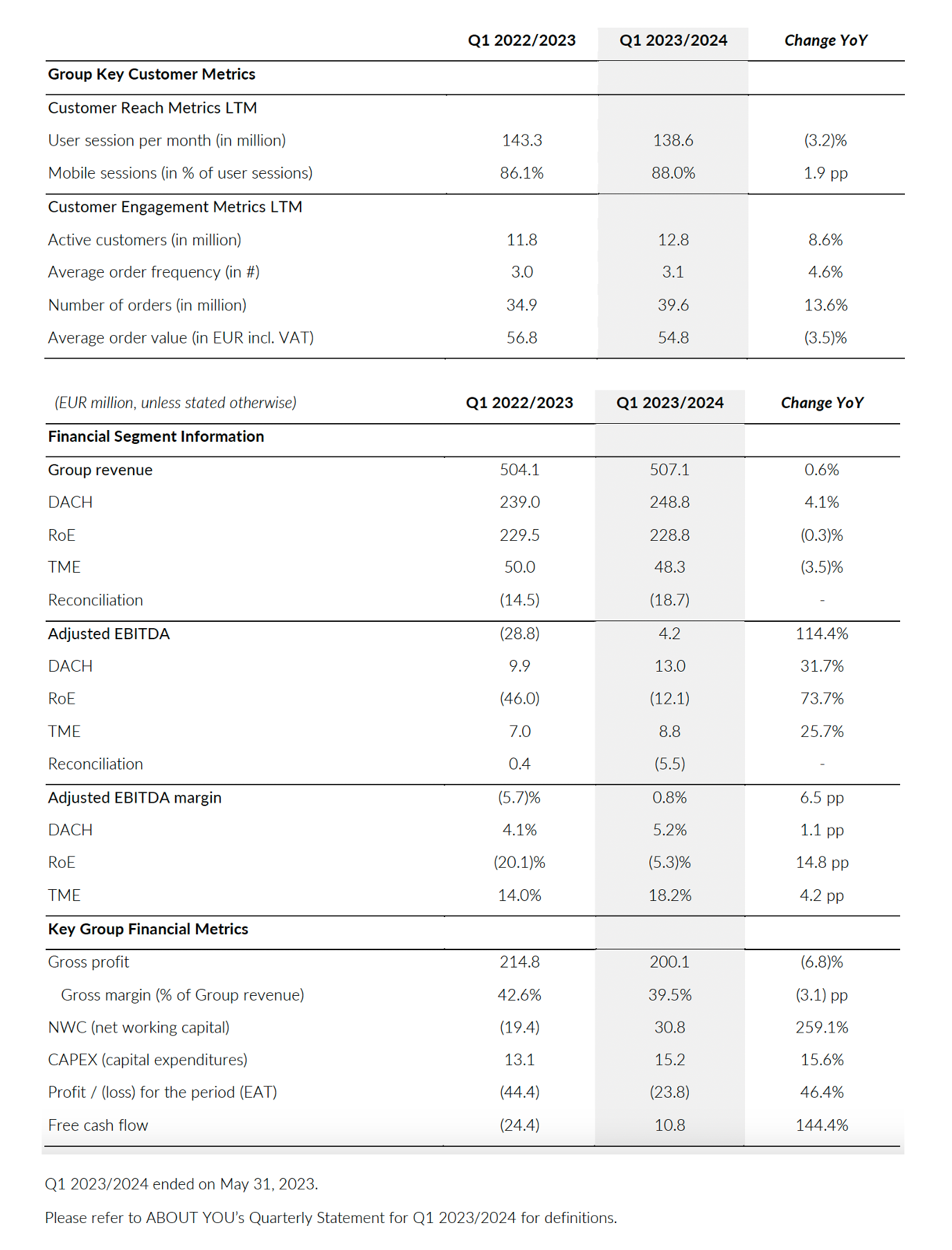 [1] EBITDA adjusted for (i) equity-settled share-based compensation expenses, (ii) restructuring costs, and (iii) one-time effects [2]  LTM: within the last twelve months
ABOUT YOU
ABOUT YOU digitizes the offline shopping stroll by creating an inspiring and personalized shopping experience on the smartphone. At ABOUT YOU, the focus is on the customers, who are supported in expressing themselves individually through fashion. On the website aboutyou.com and the multi-award winning ABOUT YOU app, customers find versatile inspiration and over 600,000 items from around 3,800 brands. With more than 45 million unique active users per month, ABOUT YOU is one of the largest online fashion stores in Europe. It is active in all key markets in Continental Europe and in total provides worldwide shipping options to around 100 countries. Through SCAYLE, ABOUT YOU offers its proprietary e-commerce technology as a software-as-a-service product for brands and retailers to grow their international D2C businesses. The shares of ABOUT YOU are listed on the Frankfurt Stock Exchange.
Press Contact
Laila Helmy

Head of Corporate Communications
More Press Releases
ABOUT YOU on Track: Accelerated Growth and Significant Margin Improvement

Revenue growth of 2.1% YoY and significant improvement in adjusted EBITDA[1] to EUR -12.9 million result in an increase of the adjusted EBITDA margin by 7 percentage points in Q2 2023/2024  Initiatives to increase profitability show results: Costs for fulfillment (-14.7%) and marketing (-41.8%) decrease significantly  Strong increase in profitability in Commerce business: Adjusted EBITDA […]

Read more

ABOUT YOU Expands to Luxembourg

Customers in Luxembourg now have access to exclusive fashion collections that are available worldwide exclusively at ABOUT YOU. Moreover, Luxembourgers can now choose from their country's most stylish fashion and lifestyle assortment in French. At the same time, they benefit from ABOUT YOU's  high service standards, such as fast delivery, various payment options, easy returns, […]

Read more

Toni Garrn co-created by ABOUT YOU: The online fashion store and the supermodel launch first joint collection

At the beginning of the Autumn/Winter 2023 season, ABOUT YOU has another highlight in store: supermodel and entrepreneur Toni Garrn is creating her first fashion collection together with the online fashion store. The pieces reflect Toni's naturalness, her international lifestyle and her life as a young mother. The 57-piece collection will be available in all […]

Read more