ABOUT YOU Reports Solid Performance and Reiterates Break-even Target for FY 2023/2024 despite a Challenging Market Environment
Updated FY 2022/2023 guidance achieved with Group revenue growth of 10.0% YoY (to EUR 1,904.6 million) and adjusted EBITDA[1] of EUR -137.0 million, despite a continuously volatile macro-environment
LTM[2] active customers increased to 12.7 million (+11.8% YoY) with an average order frequency of 3.1 (+7.1% YoY) – profitable DACH segment with 9.1% YoY and Rest of Europe (RoE) segment with 17.3% YoY revenue growth in FY 2022/2023, respectively
Segment Tech, Media, and Enabling (TME) delivers growth of 16.5% YoY in FY 2022/2023, driven by SCAYLE – adjusted EBITDA margin of segment TME remains high at 16.1%
Full focus on reaching adjusted EBITDA break-even in FY 2023/2024 – measures provide high level of confidence to improve profitability by improving gross margin and the fulfillment, marketing, and administrative cost-to-revenue ratios
Guidance for FY 2023/2024: Expected to grow Group revenue between +1% and +11% YoY and to reach adjusted EBITDA break-even
ABOUT YOU Holding SE, one of Europe's fastest-growing online fashion stores of scale, today announced solid full-year results for FY 2022/2023, with growth in revenue, customers, and order metrics amid continued macroeconomic headwinds. Defying a challenging market environment, ABOUT YOU improved its market position and pushed forward with key operational and strategic priorities in FY 2022/2023, laying the basis for profitable growth. The Group reiterates its target to achieve adjusted EBITDA break-even in FY 2023/2024.
Tarek Müller, Co-Founder and Co-CEO of ABOUT YOU: "Our full-year results reflect the macroeconomic challenges faced by our industry. Having initiated and progressed measures to improve profitability in FY 2022/2023, FY 2023/2024 will be a transition year for ABOUT YOU and set the foundation for profitable growth ahead. We continue to take a disciplined approach to capital deployment as our focus shifts from growth to profitability, with the ambition to reach adjusted EBITDA break-even for the Group in FY 2023/2024, while still growing faster than the market. ABOUT YOU has all ingredients to achieve this target: a resilient business model that digitizes the traditional shopping stroll, a strong brand, and an agile team that moves at speed."
Although elevated discount levels and return rates contributed to a 5.2% decline in the average order value to EUR 54.8 (2021/2022 LTM: EUR 57.8), ABOUT YOU's product assortment of over 600,000 items from around 3,800 brands helped expand the customer base by 11.8% in the last twelve months. A total of 12.7 million active customers placed 39.4 million orders, an increase of 19.7% year-on-year (2021/2022 LTM: 11.4 million and 32.9 million). The average order frequency rose by 7.1% to 3.1 (2021/2022 LTM: 2.9).
In FY 2022/2023, Group revenue grew by 10.0% year-on-year to EUR 1,904.6 million (2021/2022: EUR 1,731.6 million), in line with the full-year guidance updated in September 2022 and with significant growth across all segments. Despite an overall decline in online fashion sales in Germany, ABOUT YOU's Commerce business recorded profitable revenue growth in the DACH segment of 9.1% year-on-year and in the Rest of Europe (RoE) segment of 17.3% year-on-year. Revenue development was supported by strong growth from increased brand awareness in recently entered markets, like the Nordics. The profitable segment Tech, Media, and Enabling (TME) experienced a 16.5% year-on-year growth, driven by the strong positioning of SCAYLE and the B2B division's enterprise customer wins.
Hannes Wiese, Co-Founder and Co-CEO of ABOUT YOU: "We are proud to have generated a record revenue of over EUR 1.9 billion and to have lowered marketing and administrative costs in FY 2022/2023 under challenging, yet gradually improving, market conditions. We initiated the strategic and operational changes required once the headwinds altered our initial growth and earnings expectations. These included optimizing inventory, logistics, marketing planning, and hiring to create the basis on which we intend to achieve adjusted EBITDA break-even at Group level in FY 2023/2024. We are laser-focused on becoming a profitable business and are confident in our path as the measures will take full effect in FY 2023/2024."
The Group reported an adjusted EBITDA of EUR -137.0 million in FY 2022/2023 (2021/2022: EUR -66.9 million), equivalent to an adjusted EBITDA margin of -7.2%. Adjusted EBITDA development was due, on the one hand, to a lower gross margin as a result of discount campaigns related to elevated inventory levels and increased fulfillment costs driven by the expansion of the European distribution network. On the other hand, these factors were counteracted by solid revenue growth as well as improvements in the marketing and administrative cost lines.
ABOUT YOU has been implementing key measures to accelerate operational improvements since Q2 2022/2023. It will further drive these initiatives forward in FY 2023/2024, targeting an increase in gross margin as well as improvements in the fulfillment, marketing, and administrative cost-to-revenue ratios: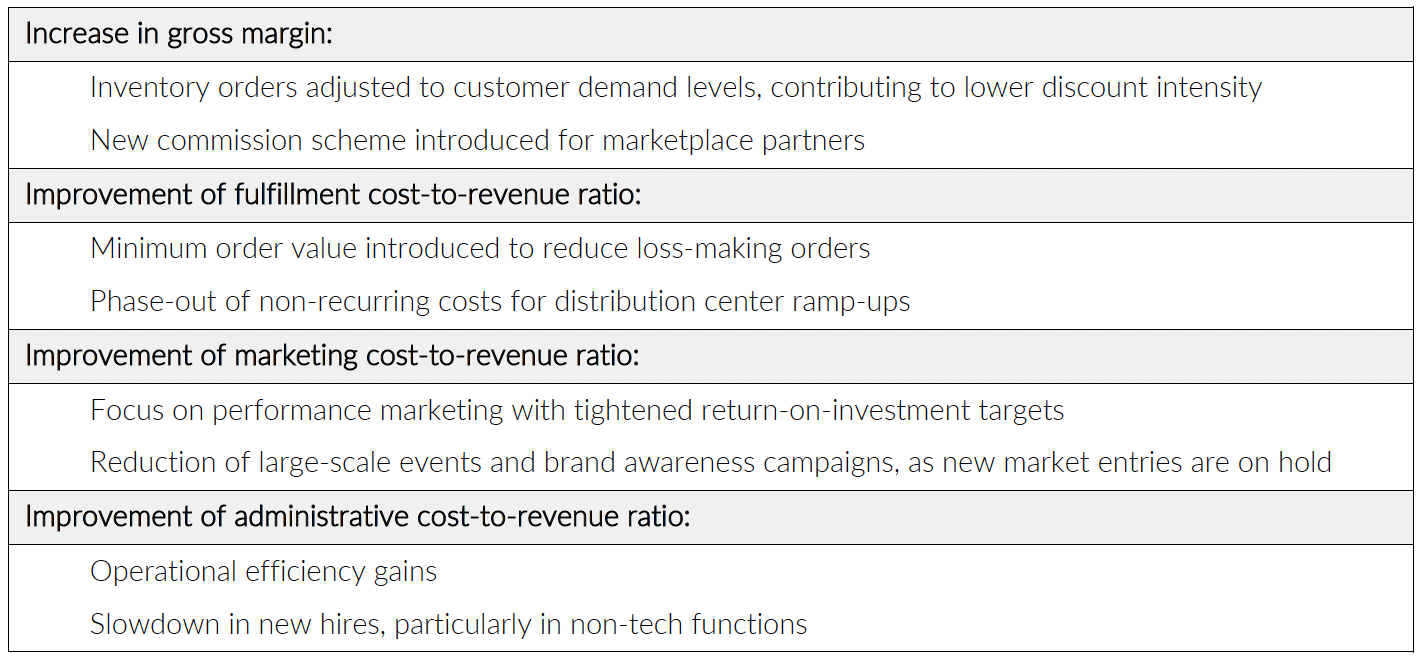 For FY 2023/2024, ABOUT YOU expects sustained Group revenue growth in the range of +1% to +11% year-on-year as macroeconomic challenges persist. While ABOUT YOU will continue to opportunistically make potential investments in strategic growth initiatives around product, markets, assortment, and SCAYLE, it will sharpen its focus on profitability. ABOUT YOU expects to reach adjusted EBITDA break-even at Group level, consistent with its strategy outlined at the listing in June 2021.
The Annual Report FY 2022/2023 is available on the Investor Relations website. The Group will publish its ESG Report 2022/2023 on the corporate website on May 17, 2023. The Quarterly Statement for Q1 2023/2024 is scheduled for July 12, 2023.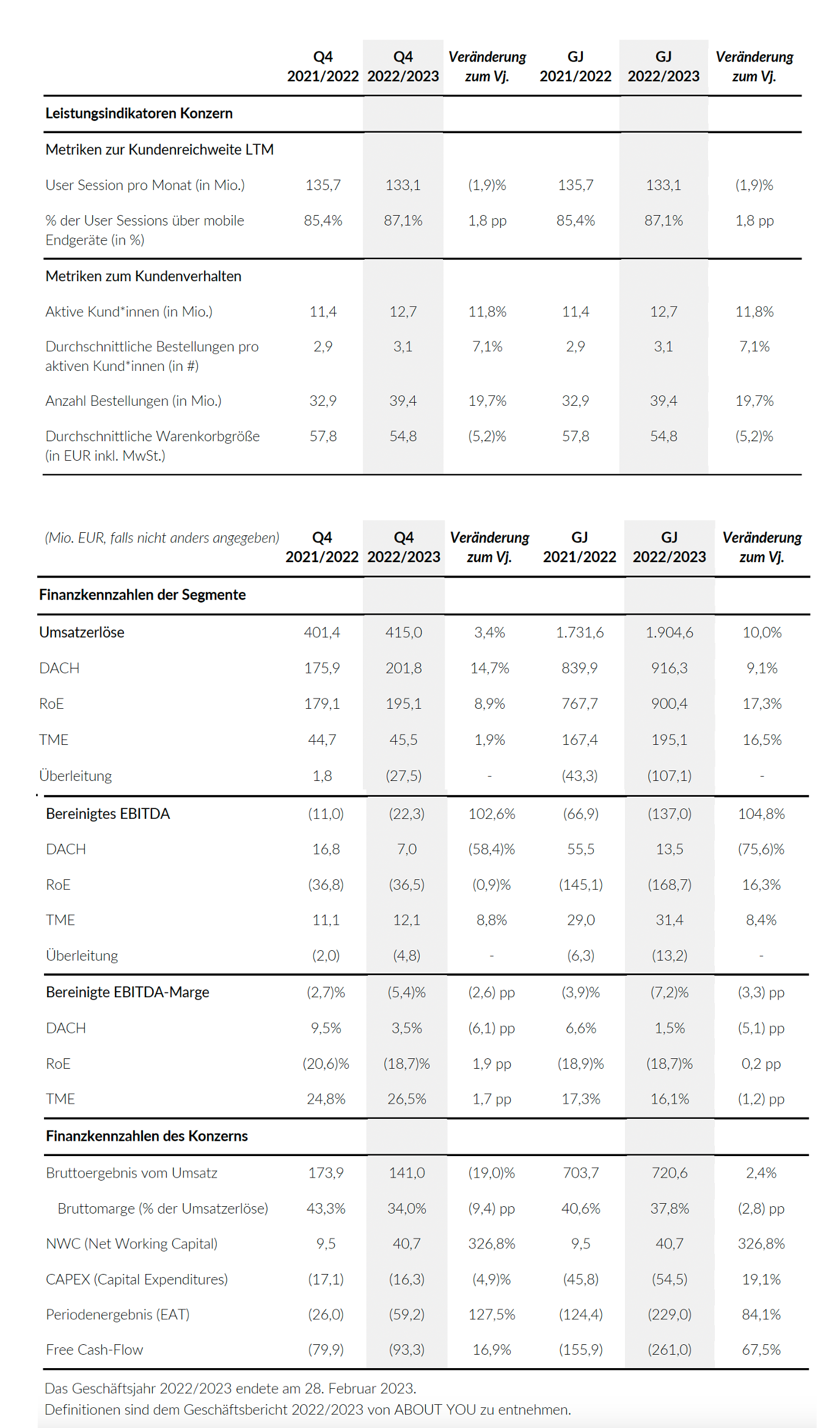 ABOUT YOU
ABOUT YOU digitizes the offline shopping stroll by creating an inspiring and personalized shopping experience on the smartphone. At ABOUT YOU, the focus is on the customers, who are supported in expressing themselves individually through fashion. On the website aboutyou.com and the multi-award winning ABOUT YOU app, customers find versatile inspiration and over 600,000 items from around 3,800 brands. With more than 45 million unique active users per month, ABOUT YOU is one of the largest online fashion stores in Europe. It is active in all key markets in Continental Europe and in total provides worldwide shipping options to around 100 countries. Through SCAYLE, ABOUT YOU offers its proprietary e-commerce technology as a software-as-a-service product for brands and retailers to grow their international D2C businesses. The shares of ABOUT YOU are listed on the Frankfurt Stock Exchange.
Disclaimer
This publication constitutes neither an offer to sell nor a solicitation to buy securities.
Certain statements contained in this release may constitute "forward-looking statements" that involve a number of risks and uncertainties. Forward-looking statements are generally identifiable by the use of the words "may", "will", "should", "plan", "expect", "anticipate", "estimate", "believe", "intend", "project", "goal", or "target" or the negative of these words or other variations on these words or comparable terminology. Forward-looking statements are based on assumptions, forecasts, estimates, projections, opinions, or plans that are inherently subject to significant risks, as well as uncertainties and contingencies that are subject to change. No representation is made or will be made by ABOUT YOU Holding SE that any forward-looking statement will be achieved or will prove to be correct. The actual future business, financial position, results of operations, and prospects may differ materially from those projected or forecasted in the forward-looking statements. Neither ABOUT YOU Holding SE nor any of their respective affiliates assume any obligation to update, and do not expect to publicly update, or publicly revise any forward-looking statements or other information contained in this release, whether as a result of new information, future events, or otherwise, except as otherwise required by law.
[1] EBITDA adjusted for (i) equity-settled share-based compensation expenses, (ii) restructuring costs, and (iii) one-time effects
[2] LTM: within the last twelve months
Press Contact
Ann-Christine Klesper

Head of Consumer Communications
More Press Releases
ABOUT YOU on Track: Accelerated Growth and Significant Margin Improvement

Revenue growth of 2.1% YoY and significant improvement in adjusted EBITDA[1] to EUR -12.9 million result in an increase of the adjusted EBITDA margin by 7 percentage points in Q2 2023/2024  Initiatives to increase profitability show results: Costs for fulfillment (-14.7%) and marketing (-41.8%) decrease significantly  Strong increase in profitability in Commerce business: Adjusted EBITDA […]

Read more

ABOUT YOU Expands to Luxembourg

Customers in Luxembourg now have access to exclusive fashion collections that are available worldwide exclusively at ABOUT YOU. Moreover, Luxembourgers can now choose from their country's most stylish fashion and lifestyle assortment in French. At the same time, they benefit from ABOUT YOU's  high service standards, such as fast delivery, various payment options, easy returns, […]

Read more

Toni Garrn co-created by ABOUT YOU: The online fashion store and the supermodel launch first joint collection

At the beginning of the Autumn/Winter 2023 season, ABOUT YOU has another highlight in store: supermodel and entrepreneur Toni Garrn is creating her first fashion collection together with the online fashion store. The pieces reflect Toni's naturalness, her international lifestyle and her life as a young mother. The 57-piece collection will be available in all […]

Read more